Summary
A wide variety of tape products exist that can be of use when doing work as a location sound recordist or production sound mixer.  Below is a collection of some of the items that I have tried and tested over the years.  Using the ideal product can often save time and frustration, which adds up over the course of a workday.  Knowing what is available is half the battle.
Gaffer tape
Gaffer tape is one of the most frequently found products on any film production set.  I have tried several different manufacturers and tend to favor the companies that provide easy access to technical data.  Carrying around a full 2″ roll can be a bit awkward, but sometimes the big roll is what you need.
For highest adhesion, I prefer Pro Tapes Shurtape P665.  For pocket sized versions with characteristics similar to P665, I like the Pro Pocket Gaff line of products.  I have successfully used Gaffer Power brand products for tasks like labeling cables, however, I have not been able to locate their product specifications.  Adhesion, tensile strength, and working temperature are important characteristics for comparison.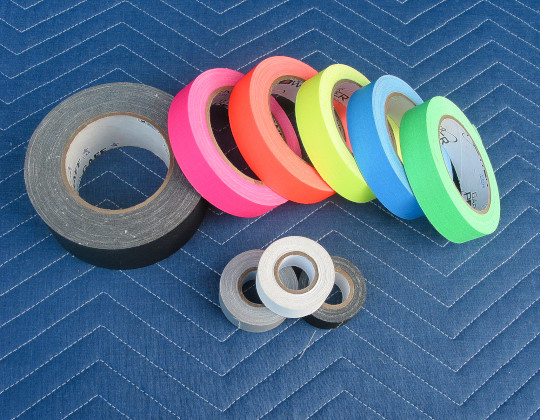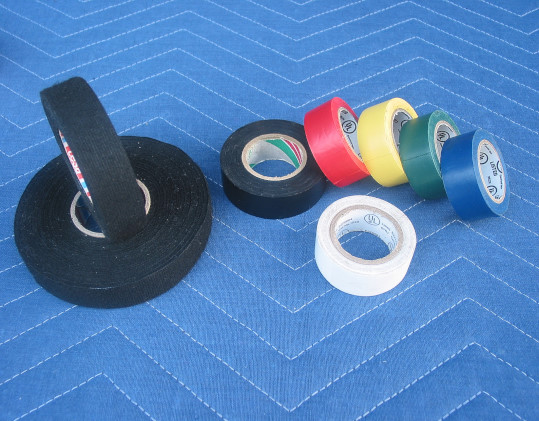 Electrical tape products
There was a time when I used electrical tape for labeling cable ends and the like.  Over time, however, I have begun to prefer gaffer tape for that purpose.  That being said, electrical tape is still useful for making temporary repairs to cables and end connections.  One product that I have begun to use to organize my sound bag is Tesa 51608 adhesive wiring cloth tape.  I find that it is useful for tasks like building a cable harness out of DC power supplies and battery eliminators.  It is not a replacement for electrical tape where electrical insulation is required, but it helps tidy the bag up neatly and is easily removed.  Some of the smaller cables also benefit from a bit of added strain relief.
Medical tape products
3M Medipore tape (seen in white) and Micropore (seen in tan, left topmost) products can be used to create strain reliefs when placing lavalier cables.  Makeup artists can apply powder or foundation on top to match skin tones more closely if desired.  Nexcare waterproof tape is also useful in some situations, however it is not breathable like the other two products from 3M.
Kinesiology tape is known for providing a secure, long-lasting bond while allowing some degree of flexibility and stretch.  Moleskin tape is used by some sound recordists to reduce lavalier microphone noise caused by friction.  It is important that any product directly applied to the talent's skin uses hypo-allergenic adhesive.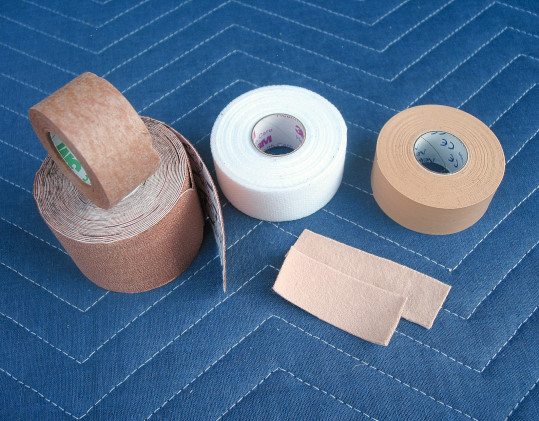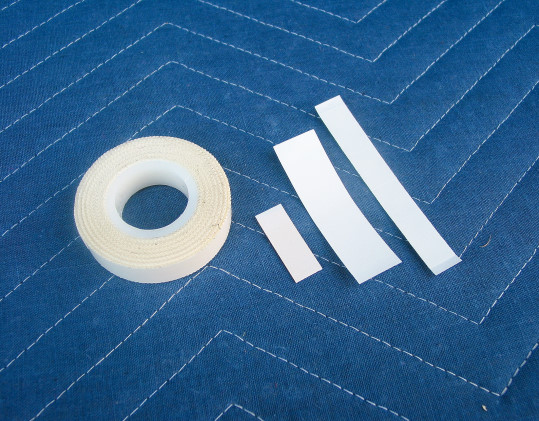 Body tape
Double-sided tape is available in a number of pre-cut sizes.  For affixing lavaliers to the skin or clothing, I like to use products from URSA, Bubblebee, or Rycote specifically designed for the microphone mount that I am using.  Pro Tapes Pro 1502 is a product that comes in a full roll that you can cut to size.  I have also tried a variety of fashion accessory tapes from different manufacturers.  They mainly differed only in the pre-cut length and width, but the system used to aid in application varies slightly from one to the next.  It is important to be certain that the product is hypo-allergenic if you are going to apply it directly to skin.
Miscellaneous tape products
Single-side adhesive foam tapes are available from a variety of sources that are useful for protection of equipment in hard contact with other surfaces.  PVC tape (top right) can be used to create a lavalier cable slip-loop for a strain relief.  It sticks to itself and does not use adhesive.
Scotch has an extreme fastener product line that functions similar to velcro in theory, but much stronger.  I find this product to be ideal for temporary attachment of devices like timecode boxes to cameras.  Scotch and Pro Tapes both carry a wide variety of non-hypoallergenic double-sided tapes for semi-permanent or permanent equipment placement.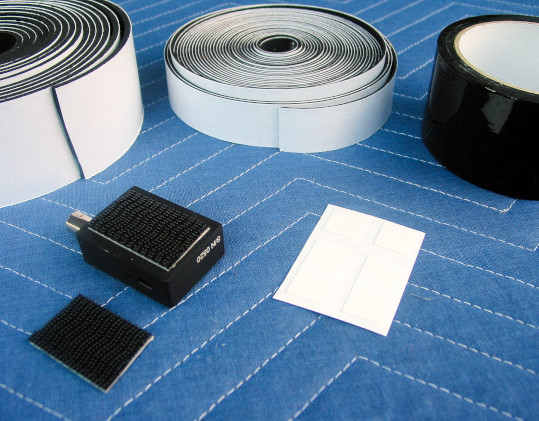 Disclaimer
I receive no compensation from the manufacturer for discussing these products.  They are purchased at standard retail rates, used in the field, and are an integral part of my sound kit.  For sound mixers and other professionals in the film world, there are often a lot of extras that you don't directly charge clients for.  However, they save a great deal of time and make a significant difference in getting good results.  In short, the small things can make a big difference.
All product names, logos, and brands are property of their respective owners.  Use of these names, logos, and brands is for identification purposes only and does not imply endorsement.
Additional Links